Overview
This is a signal boosting device, and alternative to the Genius Smart Plug. The In Wall Range Extender is installed behind a fused spur (pictured below) so it cannot be tampered with and will always boost the signal for the other devices in the property.
Each Genius Hub system uses a number of signal boosting devices, such as the In Wall Range Extenders to make the system work reliably, and increasing the life of the battery powered devices by providing easy lines of communication back to the Genius Hub.
Smart Plugs vs Range Extenders
| | Genius Smart Plug | In Wall Range Extender |
| --- | --- | --- |
| Power Supply | Gets power from the socket they are plugged into | Get power from the socket they are wired next to |
| Installation | Quick and easy to install, simply by plugging them in | Are wired into a fused spur next to a 3-pin socket, by an installer/electrician |
| Flexibility | Easy to move should more devices need to be added | Screwed to the wall, unable to be moved, turned off or tampered with |
| Secondary Function | Can use as a timer plug by plugging devices into the socket on the front of the Smart Plug | None |
| Interaction | Anyone can press the button on the front plug/unplug devices or the Smart Plug | None possible, are enclosed behind fused spur which makes them tamper-proof |
Genius Smart Plugs and Range Extenders have a similar wireless range, so the number of Smart Plugs calculated by the Create Your System, can be used to determine how many Range Extenders to place in the property. Range Extenders also follow the same rules for what rooms to place them in as Smart Plugs, more details found here.
Installation
In Wall Range Extenders are wired into a pattress next to an existing 3-pin socket, using the existing wiring to power them. They are wired through a 3A fused spur to provide protection to the device from power-surges, to make them tamper-proof to people in the room, and to allow for isolation of the Range Extender should maintenance be required.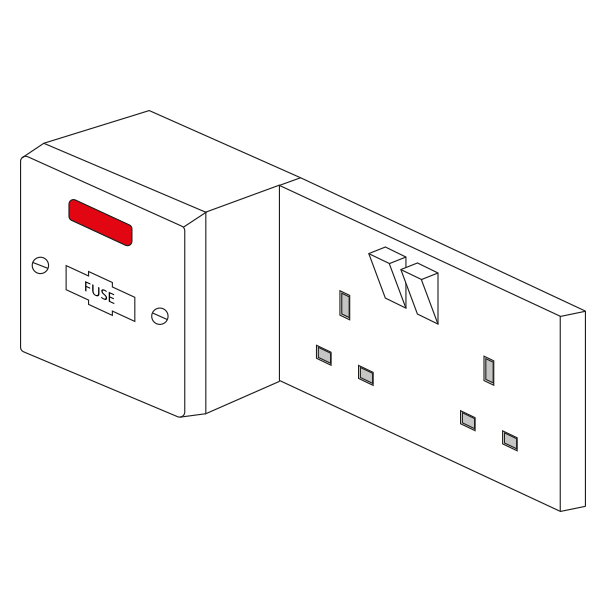 Further Information